Welcome to Bar Run Golf and RV Resort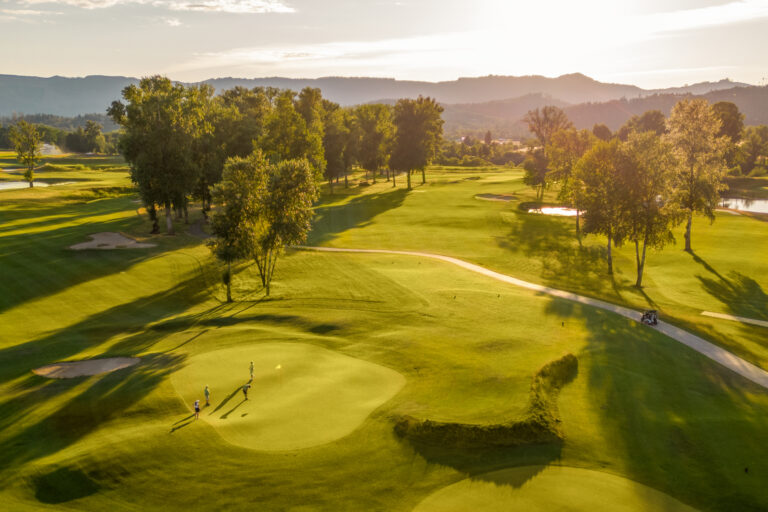 Built on reclaimed sand-gravel mines on the serene banks of Roseburg, Oregon's South Umpqua River, Bar Run is a spectacular new golf course designed by Pacific Northwest native Dan Hixson. Take in the view and play and extra round when you stay at our brand-new RV Resort and Cottages.
Bar Run is a remarkable place. Beyond our spectacular course and gleaming new RV Resort, we are surrounded by an abundance of attractions, including downtown Roseburg, sweeping mountain vistas, wine country, and idyllic river bends.
"The land very much dictates the design at Bar Run – it's a reclamation project for the mining operation, and that gave me a lot of flexibility to design a memorable, challenging golf course with a surprising amount of width at the same time. When you have this landscape — with no homes, a mix of large ponds, beautiful trees, the riverside setting along holes 10, 11 and 8 — and ownership like the Guido family who wanted to build a fun experience both on and off the golf course, it fires up your creativity."
-Dan Hixson, Golf Course Designer
The heart of RV life lies not only in unearthing adventure, but in gathering as a community to enjoy each other's company. Whether you are searching for a place to overnight your RV, spending quality time with your family, or relaxing in one of our cozy cottages between rounds of golf, Bar Run is your perfect destination.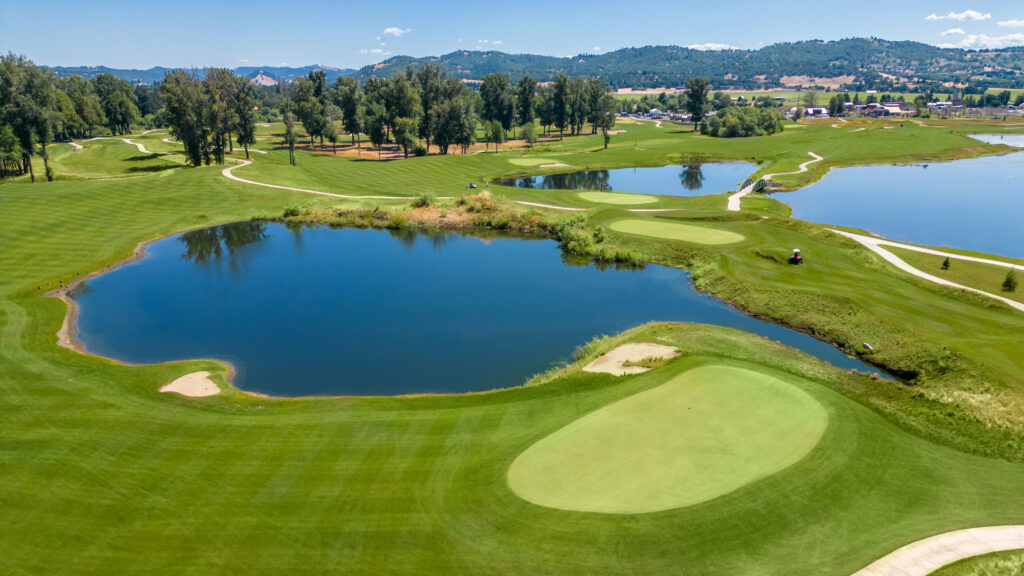 Hours:
Monday | 8am – 4pm
Tuesday |  10am – 4pm
Wednesday | 8am – 4pm
Thursday | 8am – 4pm
Friday | 8am – 4pm
Saturday | 8am – 4pm
Sunday | 8am – 4pm
Bar Run offers food and beverage service including beer, wine and a selection of ciders, prepackaged snack items, burgers, hot dogs, energy bars, and cookies better than Grandma's. Stop by after your round and indulge in our signature burger while you sip a cold beverage. 
Hours:
Daily | 10am – 2pm
Located next to the Golf Shop.
Whether you are planning an intimate luncheon or a grand wedding, we've got you covered from start to finish. 
High school reunions
Birthday party
Celebrations of life
Holiday parties
Team outings
Anniversary celebrations
Networking mixers
Graduation celebrations
Cultural events
Retirement Parties
You name it, we got you covered!
No matter the occasion, we have the expertise to turn your event or outing into an extraordinary experience. Let's make our vision a reality. To book a tour, email kmarsh@barrungolf.com.
We understand that last-minute concerns can arise. We kindly request you please notify us as early as possible if you need to change, reschedule or cancel your visit, so we can open your tee time to other guests.
The best route is to head west off Interstate 5 using the NW Garden Valley Boulevard exit, take a left onto Melrose Road (4.9 miles), and then take a right onto Shady Drive (.9 miles). Follow the Bar Run sign taking you directly to our check-in office. 
We offer a guest experience filled with adventure, relaxation, and surprises at every turn. That experience is supported by a team member culture of hard/smart work, which curates a fun and rewarding team attitude. Click here for available positions.