Welcome to Bar Run Golf and RV Resort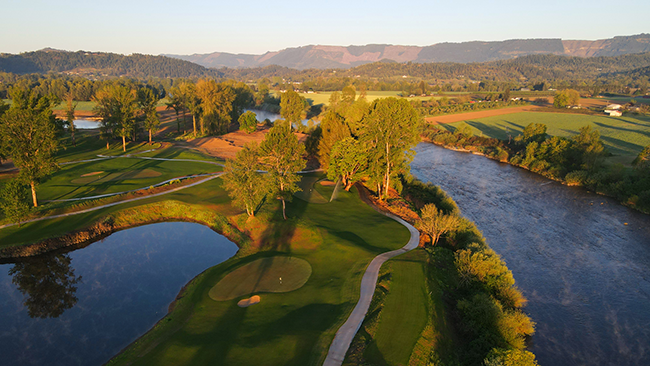 Built on reclaimed sand-gravel mines on the serene banks of Roseburg, Oregon's South Umpqua River, Bar Run is a spectacular new golf course designed by Pacific Northwest native Dan Hixson. Take in the view and play and extra round when you stay at our brand-new RV Resort and Cottages.
Bar Run is a remarkable place. Beyond our spectacular course and gleaming new RV Resort, we are surrounded by an abundance of attractions, including downtown Roseburg, sweeping mountain vistas, wine country, and idyllic river bends.
"The land very much dictates the design at Bar Run – it's a reclamation project for the mining operation, and that gave me a lot of flexibility to design a memorable, challenging golf course with a surprising amount of width at the same time. When you have this landscape — with no homes, a mix of large ponds, beautiful trees, the riverside setting along holes 10, 11 and 8 — and ownership like the Guido family who wanted to build a fun experience both on and off the golf course, it fires up your creativity."
-Dan Hixson, Golf Course Designer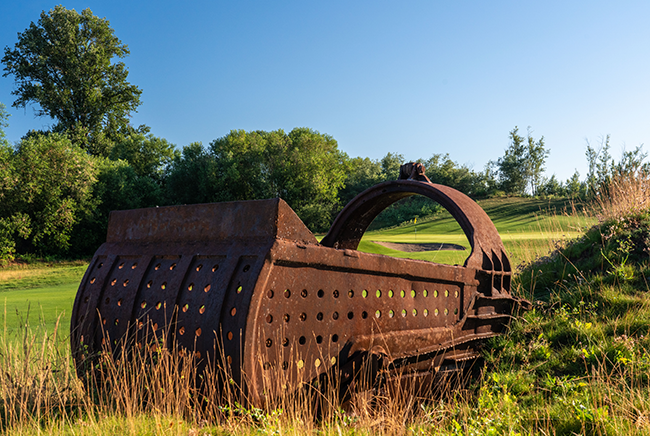 Today, the South Umpqua River serves as the northern border of the golf course along the 8th, 10th, and 11th holes, but it once completely covered this little pocket of the American West. When Umpqua Sand & Gravel opened for business in the 1960s, our objective was to mine the land's "river bar" layer for round rock, sand and gravel on the river bank. 
The "Bar Run" name offers homage to hitting pay dirt, which gets excavated, washed, and sifted into various materials used in construction, agriculture, landscaping, and golf course development. Simply put, "Bar Run" is the foundation of this golf course., . That's why we chose it as a namesake — a tip of the hard hat to geological history and a business built from the ground up. 
"Bar Run" is the foundation for everything we do at Bar Run Golf and RV Resort— and everything we're building for the future. In fact, golfers often get a glimpse into Umpqua Sand & Gravel's daily mining operations on and off the fairways at Umpqua Sand & Gravel. One of our iconic, and dare we say, rustic dragline buckets stands between the 14th fairway and 16th green. 
Of course, if you want to interpret "Bar Run" as your own personal "run to the bar" after 9, 18, 36 (or more!) holes, we'll always have a tasty beverage waiting for you. 
The heart of RV life lies not only in unearthing adventure, but in gathering as a community to enjoy each other's company. Whether you are searching for a place to overnight your RV, spending quality time with your family, or relaxing in one of our cozy cottages between rounds of golf, Bar Run is your perfect destination.
(Opening Soon!)
Bar Run offers beverage service (including beer, wine and a selection of ciders) and prepackaged snack items so stop by the Shack Bar —coming soon, the menu will include a signature Bar Run Burger, energy bars, and cookies better than Grandma's. 
We cannot accommodate vegan and gluten-free requests at this time.
Bar Run is currently using high-end portable restroom facilities throughout the property, but those will be upgraded soon. 
We understand that last-minute concerns can arise. We kindly request you please notify us as early as possible if you need to change, reschedule or cancel your visit, so we can open your tee time to other guests.
Bar Run is located at the Umpqua Sand & Gravel mine at 640 Shady Drive, Roseburg, OR 97471. The best route is to head west off Interstate 5 using the NW Garden Valley Boulevard exit, take a left onto Melrose Road (4.9 miles), and then take a right onto Shady Drive (.9 miles). Once you've arrived on the mining property look for signs pointing to the temporary golf parking and check-in tent.
We offer a guest experience filled with adventure, relaxation, and surprises at every turn. That experience is supported by a team member culture of hard/smart work, which curates a fun and rewarding team attitude. Click here for available positions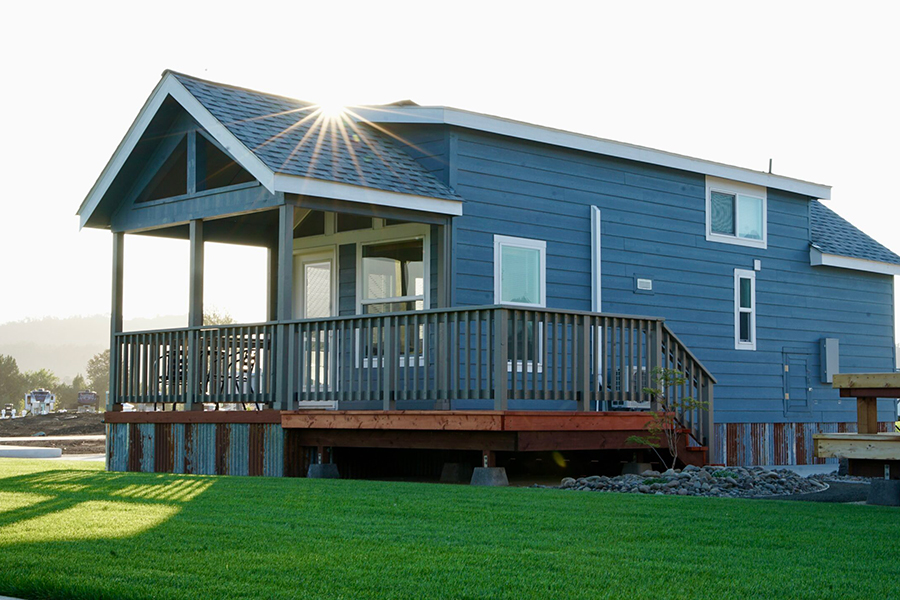 We're now taking reservations, so email info@barrungolf.com before we fill up.
With large front porches and amazing views of the golf course, the Bar Run Golf and RV Resort, the Bar Run Golf and RV Resort Cottages are the perfect place to relax with family and friends between rounds of golf.
These cozy escapes with panoramic views of the course are near the Umpqua River and only minutes from Roseburg, Oregon. It's the perfect place for you and your friends to enjoy some much-deserved downtime. These accomodations also serve as an idyllic basecamp for day trips to the Oregon coast and Crater Lake.